It is now a week since the Heathrow Bonsai Show but I've been so busy this is the first opportunity I have had to share the photos I took and describe what a great day out I had. Even if my wife and daughter found it as exciting as I do shoe shopping.
Over dinner one evening mid September my wife asked if I'd like to go with our friends Paul and Debbie to a bonsai show in Harlington near Heathrow. Debbie's brother was Mark Moreland was organiseing the event for the second year and had asked if she would come and check it out. Well needless to say I didn't need asking twice and added the sixth of Nov to my bonsai diary.
With a three year old in tow we couldn't get there two early. The show was really well sign posted with large white boards around the very built up congested area. Not that we needed them as our hosts grew up in the area and knew every road and side street.
When we arrived I was introduced to Mark and found him to be a really friendly guy. We had a chat about the event and how pleased he was that it was at that point a huge success with not only lots of bonsai enthusiasts but also plenty off the street passers by and people who had seen the advertising around town. I was very pleased to see a good showing of Wessex Bonsai Society members. I think I counted eleven in total. There were also a fair few trees I recognised from work shops and the summer and winter shows. There were two large marque style tents and a small hall displaying trees. One tent was dedicated to the Heathrow Bonsai Club's trees and the rest were filled with some lovely trees from clubs all along the South of England. I did have one tiny critique that was, the cladding on the walls in the main hall made for a poor back drop for photographic reasons. Which of course I'm sure you will agree from the photos I've included in the slide show below. I didn't include a photo of every tree from the show because some of them just didn't come out very well. Mainly because of the wooden cladding back drop.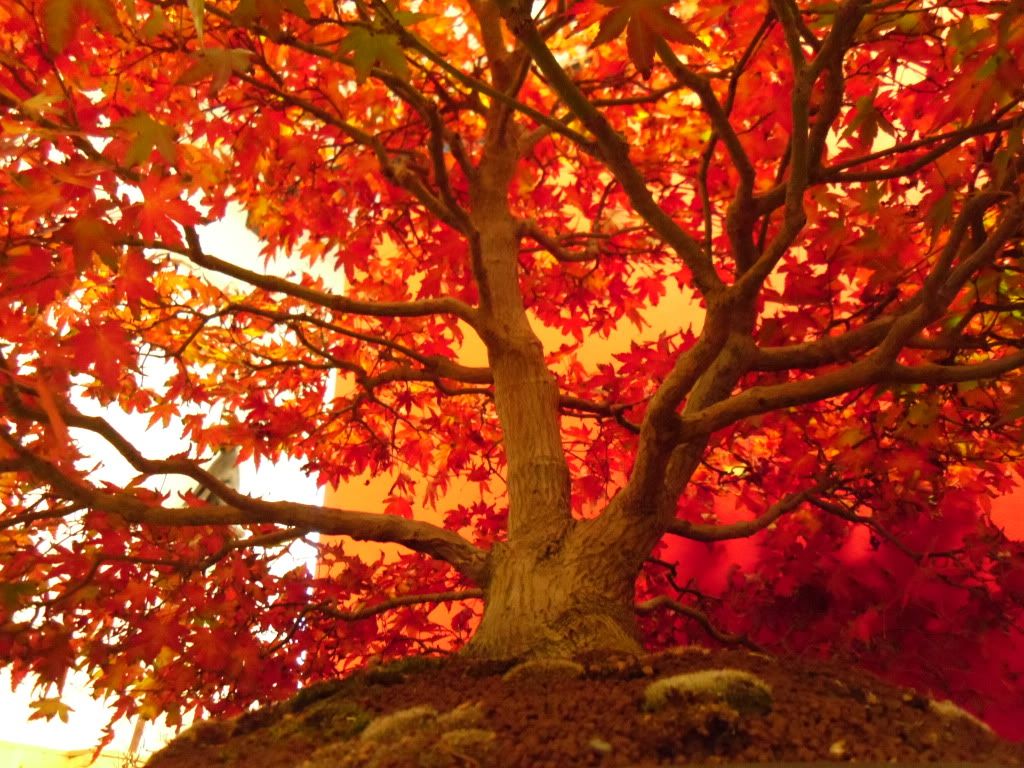 I took this from underneath the large maple.
I'm very impressed with this photo.





There was also a demonstration by Kevin Wilson on a monster of a larch. I didn't personally catch the carving at the beginning or the finished tree after wiring. In truth all I did manage to catch was three guys who I didn't know of wiring the tree up. Not really the most informative element of the demo but that's what happens when you go with your un interested wife and young child. If any one has a photo of the finished tree than please email it to me
bonsai@halowebdesign.com
Lee Verhorevoort
was there as the only bonsai trader with a room that had been transformed in to a bonsai store. I think he sold quite a few trees as I know of at least six that went to
weetrees
members. A couple of great white pines among them. I pointed wifey in his direction but didn't go the whole hog and start pointing out what would look great in my developing bonsai garden because as a Christmas present. after all, I knew she wouldn't of been able to smuggle it back in the car without me seeing. I met Lee a few months back when he came to one of our club nights to do a talk on maples. I found him one of the most informative speakers we have had at the club and would love to have him back again soon. I've just looked at his website
www.lvbonsai.co.uk
and found out his bonsai nursery is very close to where I was born and bread. I shall make sure I set by some time to pop in when I'm next up to see my mum.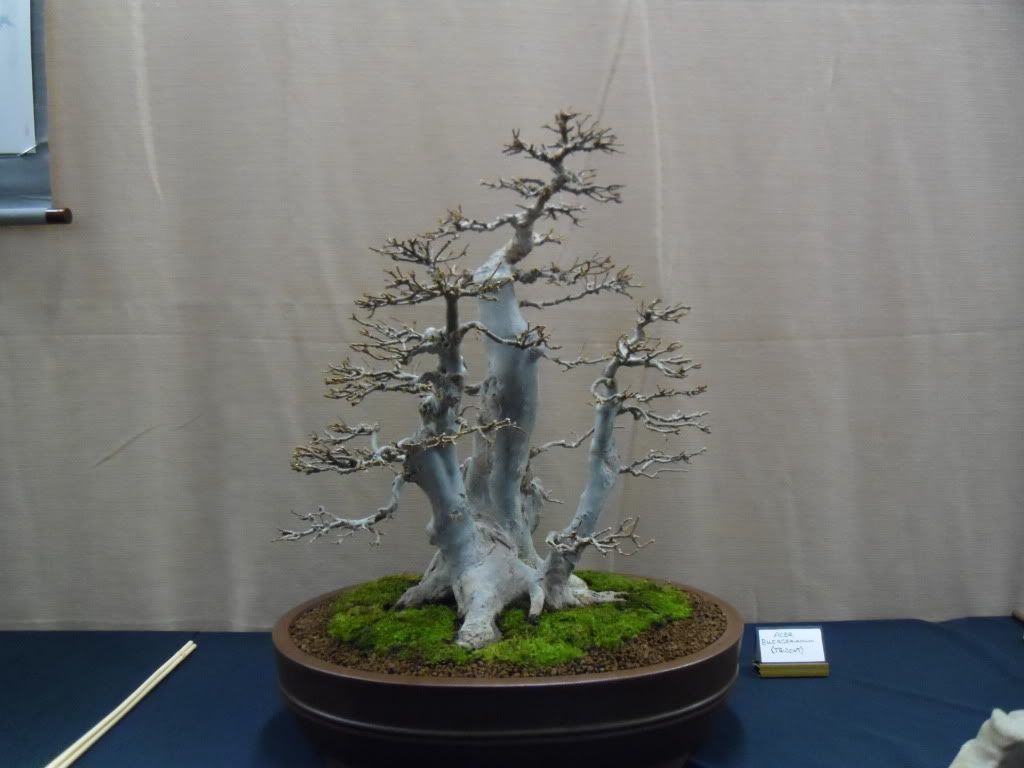 My favorite from the day.
As always it was very difficult to chose a tree but for me I think this maple would of been a good tree to sum up a cold day. There was a good five I thought were outstanding but if I had to chose one then I think I would have say this would be it.
A big thank you to Mark and a big thank you for reading through the write up and I can honestly say if you can keep the first week end of 2012 free in your diary for next years Heathrow Bonsai Show. I can see it becoming bigger and better over the years and a must go to event in the bonsai diary.